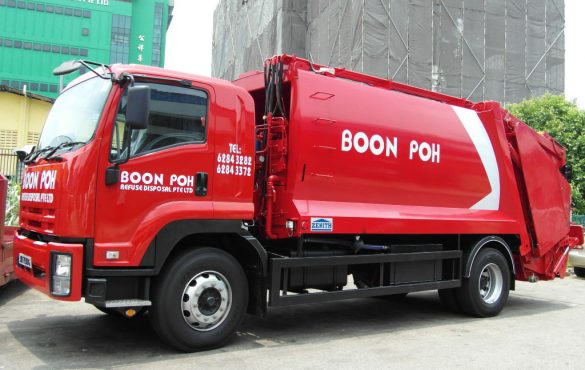 Established in 1972, Boon Poh Refuse Disposal Pte Ltd has remained an industrial leader in providing effective waste management services that fulfil the expectations of its valued customers.
Our team of experts apply the most innovative measures that are both cost-effective and sustainable towards the environment. We are always on the lookout for the latest eco-friendly technology and industrial practices.
Contact us by phone or email to receive swift and reliable assistance from one of our professional staff trained to recommend the ideal waste management solution.
Waste Management Services and Benefits
We offer a variety of waste management and rubbish disposal solutions according to your arrangements. Our services are extended to both public and private sectors, all scheduled at your convenience.
Waste items are sorted into organic and inorganic/non-recyclable piles. Non-recyclable loads are delivered to the landfill for disposal, where natural energy is produced to power industrial facilities.
Recyclable wastes are stored and transported to plants where the materials are restructured and manufactured into new products. This sustainable process reduces pollution from incineration facilities and the wastage of natural resources.
Arranging for a reliable routine cleaning system allows customers to prevent the buildup of waste and improve the overall hygiene and maintenance of their spaces.
Why Choose Boon Poh Refuse Disposal Pte Ltd?
We are a leading company with over four decades of experience in waste management solutions. Our specialised services include waste disposal preparations and routine office cleaning arrangements managed by a team of experienced staff.
Always Developing
Our company believes in seeking regular improvements to our staff training, practices and technological standards to create the most effective services delivered by the most efficient experts. We aim beyond the basics.
Comprehensive Services
We provide a full-range of value-added services. Our skilled team supplies quality waste management products as well as overseeing routine cleaning and landscaping routines for your spaces.
Competitive Pricing
We offer the best waste management solutions to our valued clients at affordable prices while fulfilling the latest industrial standards.
Boon Poh Refuse Disposal Pte Ltd grants you the assurance of excellent waste management services.