BOON POH REFUSE DISPOSAL PTE LTD
WASTE DISPOSAL IN SINGAPORE
Since 1972, Boon Poh Refuse Disposal Pte Ltd has continued to provide valued services as a leading expert in waste disposal for a wide range of clients from both private and public sectors.
We follow the latest standards in waste management technology with a sustainable approach that safeguards the environment while maintaining optimal hygiene in your spaces.
Feel free to give us a call or leave an email to receive fast and reliable customer service from one of our experienced consultants who will be more than happy to assist you.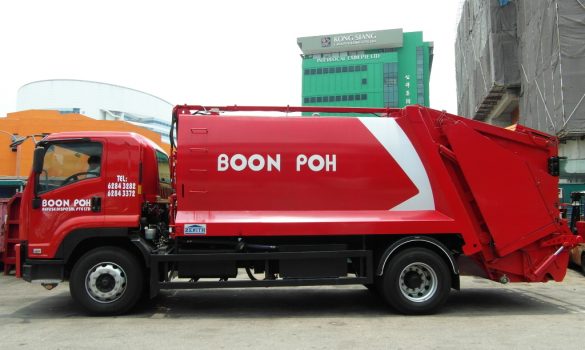 Waste Disposal Stages & Benefits
We provide a variety of innovative disposal methods for collected wastes, serving to conserve the environment and to reduce the harmful effects of industrial pollution.
Collection & Transportation
A fleet of vehicles and containers operated by industrial professionals are scheduled to collect the refuse from designated premises, which are then delivered to the landfill and recycling plants.
Our national method of waste management has its only facility located in Pulau Semakau. Through sustainable industrial standards and practices, we can help maintain the landfill facility longer for future generations.
Environmentally-friendly Resource
The wastes dumped in landfills provide natural energy that power industrial facilities in a safe and eco-friendly way.
Why Pick Boon Poh Refuse Disposal Pte Ltd?
We are an experienced waste management solution provider with over forty years of industrial expertise. We offer a wide variety of specialised services that include office cleaning and food waste recycling for a comprehensive system catered to your spaces.
Always Developing
Our company believes in regular updates to our staff training, practices and technological standards to arrange the most effective services by the most efficient experts.
Comprehensive Services
We go beyond waste disposal services. Our dedicated team is trained to provide a one-stop solution for the maintenance of your environmental spaces , with professional landscaping and cleaning services.
Competitive Pricing
We offer quality waste management solutions to our valued clients at affordable prices.
Boon Poh Refuse Disposal Pte Ltd will provide you with the most effective and sustainable waste disposal system that you can trust.